j Courier Chess
Recreated after 500 Years
from Lucas van Leyden's Famous Painting of 1508
courier game - kurrier - renaissance - medieval - 8 by 12 - chess players - chess match - kurierschachspiel - ches

s variants - ancient chess
____
Courier chess flourished for over six centuries in central Europe. Played on an expanded 8 by 12 board, and with three novel pieces and four additional pawns on each side, the "courier game" was played alongside the old medieval chess and the modern chess we play today.
In 1508, the Dutch painter Lucas van Leyden captured the drama of courier chess in his famous painting, known as "The Chess Match," "The Chess Players," or "The Chess Game".
Now, after 500 years, the game in van Leyden's picture has been analyzed and a faithful reproduction of the chess pieces and board have been created. Along with rules, first published in 1616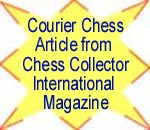 by the chess chronologist Gustav Selenus, the great game of Old Europe has been resurrected, and is ready to be played on into the 21st century!

In March, 2009, an article appeared in The Chess Collector — the official magazine of Chess Collector International, discussing courier chess in detail, and referring to this new re-creation. You can download the full illustrated article (in PDF form) by clicking this link.
The Courier Chess Reproduction



I already purchased one of your sets and I love it!
It exceeded my expectations. I hope you can continue
producing these sets, you're doing a valuable service
making this extinct game available again.
________________________________________________— Jeff S. of Everett, Washington, USA
The complete set of 48 pieces stand between ¾ inch and 2 ¼ inches tall (1.8 ~ 6 cm), the same size of those depicted in van Leyden's painting.
Hand crafted in Riverside, California, made of solid resin, steel reinforced where needed, pigmented throughout, and hand detailed to recreate the 500-year-old painting as closely as possible.
They are felted for comfort in play, and protection of the board.
This copyrighted reproduction is available only through CourierChess.com.

The board measures 19 ¾ by 13 ¾ inches; ½ inch thick (35 by 50 by 1.25 cm), just like the one depicted in van Leyden's painting.
The playing surface is a photographic image of a fine hand-painted German beech wood replica – likely materials for van Leyden's original subject. It is reproduced here fixed to sturdy fiberwood board (MDF).

A quality print, the same size as the original painting, is included (details below).

The illustrated rule booklet clearly lays out the original rules of play with diagrams, pictures and explanations.


More information about this chess set is available in a special message to Chess Collectors.
Now Only $299 plus shipping*
Any Questions?
*Shipping $22 within the United States, $50 to other countries
Quality Print of Lucas van Leyden's Painting


Original size: The image is reproduced in the same size as the original painting:
10.6 x 13.8 inches (27 x 35 cm). Including the border, this print measures 12 x 18 inches (30.5 x 45.7 cm).

Restored: Scrapes and damages have been carefully removed, restoring this painting to its original beauty.

Fine quality: The image is finely detailed, printed with a glossy finish on a firm 10 point paper (about the thickness of a standard card stock).

Now Only $12 plus shipping*
Any Questions?
*Shipping $3 within the United States, $5 to other countries